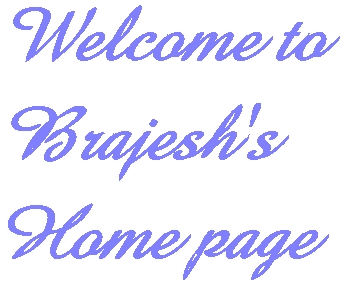 INTRODUCTION

Hi i guess you must have hit upon this page by mistake, any way it is fun to have some one visit you on the net. As you know I am Brajesh Dhandhania age 33 live in Calcutta a city on the Eastern part of India. Iam married and have one son. His name is Eishan and is 6 years old. My wife's name is Manisha. I am in the business of financial services. I have done my schooling from St. Paul's School Darjeeling. I completed my Graduation from Sydenham College of Commerce and Economics Bombay. I am trying to build this page better. It would help if you could send me some suggestion on how to make it better.

| | | |
| --- | --- | --- |
| Click here to read more on me | Click here to read my jokes | Click here to see my family pictures |
| This is India's Premier Scearch Engine | St. Paul's School Darjeeling This is where I spent 10 years | Vivani Pharmaceuticals a nice site |





Contact Me

Brajesh Dhandhania
12D, Amarjyoti,
10, Belvedere,
Calcutta 700 027
India
Phone Residence: 91 33 479 2622 / 479 2843
Phone Office: 91 33 237 9165 / 237 0857
Fax: 91 33 2370857


Cyber junkies have visited so far

Sign my Guest Book It is a pleasure to read your comments.

Thank You
Hope You Enjoyed My
Web Page
Do Visit Again

You can read comments made by others who have dropped by .